Event Calendar
Events Search and Views Navigation
January 2021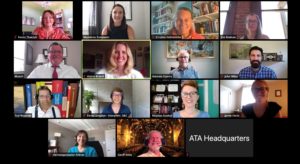 The ATA Board of Directors Meeting will be held online. All ATA members are invited to attend.Want to attend?Email your name and membership number to boardmeeting@atanet.org with the subject line Request to Attend the ATA Board Meeting. The Board meeting agenda will be posted here prior to the meeting.Don't know how a Board meeting works?Listen to The ATA Podcast: Inside the ATA Board Room for a look at what happens.
Find out more »
February 2021
April 2021
May 2021
August 2021
October 2021
January 2022
January 2023
+ Export Events
Events highlighted in blue are offered by ATA or by ATA Divisions, Chapters, or Affiliates.
As a service to members, ATA includes events organized by non-profit associations and institutions that serve the translation and interpreting community. Inclusion does not imply affiliation with or endorsement by ATA. ATA membership is not required.
If you know of an event that other translators and interpreters should know about, please email the event name, organizing group, website, and contact information to ATA at calendarevents@atanet.org.